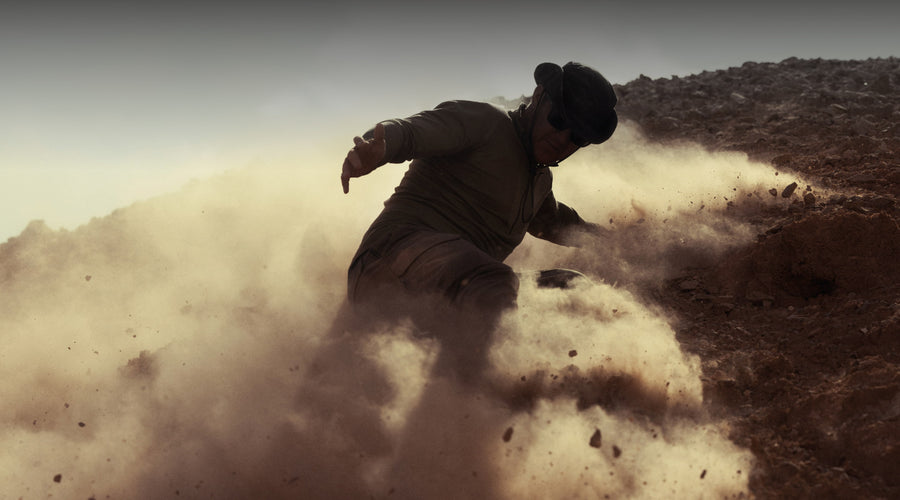 A COLLECTION WITH LEGS
Check out our guide below to find the right performance trousers for your next expedition.
Whilst a high quality insulated mid layer or jacket will take your expedition wardrobe to the next level, performance is built on a reliable pair of trousers. Trousers you can trust to push and pull you through whatever terrain lies in your path.

Not sure what you need?

Check out our guide below for an introduction:
Oryon Carbon Trousers
Breathability
You'd be forgiven for thinking that trousers built from "Super Biflex Chrono-Carbon Rip-Stop" would be far too over the top for arid environments. In practice, the adverse is true.

This lightweight, flexible rip-stop fabric imbued with a nano-carbon filament allows for enhanced dynamic gating of infrared radiation. Not sure what that means? The science is actually quite simple - bear with us.

As you sweat, the yarns in this fabric contract, allowing more of the infrared radiation emitted by the body to escape - cooling you down. When cool and dry, such as at night, the opposite process occurs, trapping infrared radiation and mitigating the loss of body heat.

Fortunately, mechanical ventilation is much easier to understand. The Carbon Trousers feature 8 (yes 8!) different mesh vent panels that can be zipped and adjusted as you require.


Charge Trousers
Utility
A pair of Charge Trousers should be the first thing on everyone's outdoor wish lists. Scuffed and scraped through desert sands, dragged through jungles and hauled up mountains. They're exceptional every-pants for the exceptional everyman (or woman) and are designed to be taken everywhere you go.

Constructed for comfort, capability and capacity with a blend of breathable stretch fabric, stronger than steel reinforcements and large capacity, cargo-style pockets.

Available in a host of colours including Obsidian Black, Olive Green, and Wolf Grey (men's only).

They're a staple amongst the team here at HQ but you'll also see them worn by the likes of Jason Fox and Victoria Pendleton. Sounds like a lot right? You can't say you don't get what you pay for.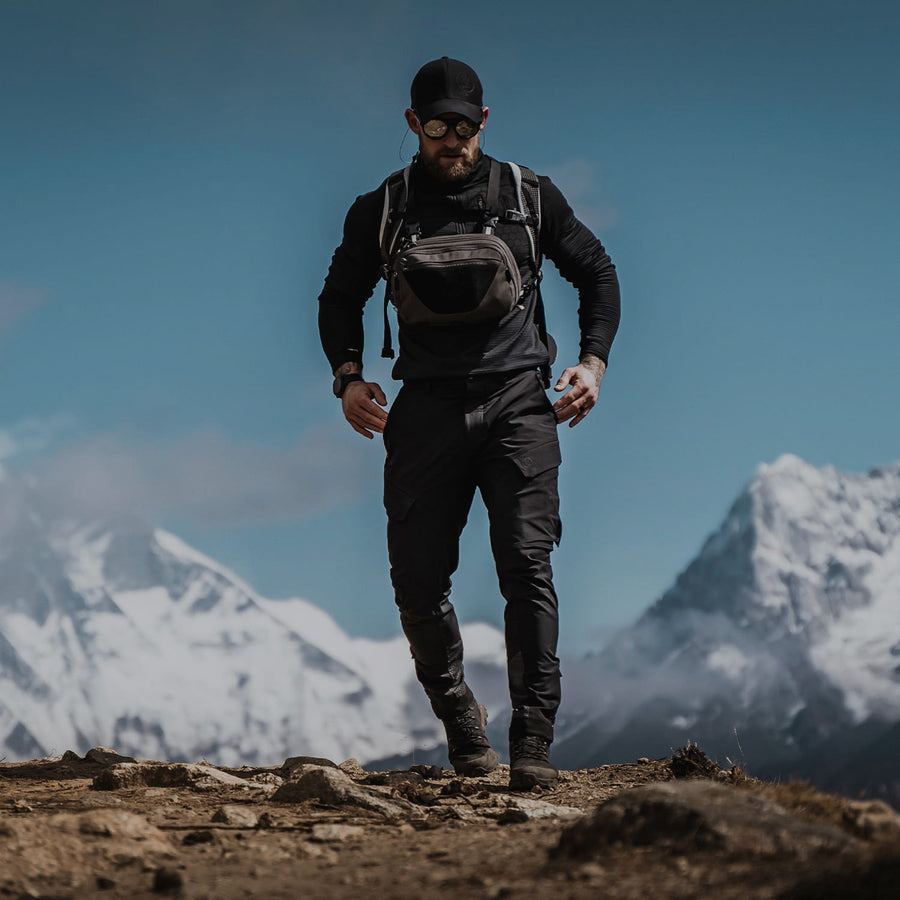 Strike Pants
AGILITY
Remember when "flex" was about material performance and not showing off?

Yeah well, the Strike Pants are designed to do both… they're flexible and durable all-round pants and they're sourced from one of the finest factories in Italy.

Flexion and function combine with a four-way stretch fabric incorporating innovative Ecorepel® and Dryskin® technology which help repel water and provide hard wearing, wind resistant, breathable, fast drying superiority.

Built with friendly forces as well as repellent resources - all pocket flaps and zips are carefully magnetised to keep things together and minimise flapping or fuss when opening and closing.

They're the ultimate-streamlined-stretch pants for hiking, mountaineering and day to day wear. Sadly, they're also our worst kept secret so make sure you're the first to get them or suffer from envy when your friends beat you to it.


Black Ops Mantra
Insulation
Designed for basecamp down time and other sub-zero settings.

Fleeced but far from fragile, the Mantra Black Ops Pants combine high performance, Polartec Thermal Pro™ insulation with a composite blend of Dyneema ® and Cordura ® for added protection from wear and tear.

Durable, fast drying and featuring anti-pilling technology, the Mantra Black Ops Pants are one of the few pairs on the market that won't just make it up to base camp, but back down as well. With a waist drawstring and both buttoned and zipped cuffs for easy access and adjustment to maintain maximum insulation.

Let's face it, the ten-day trek to Everest is worth it just for an excuse to pull these on when you get there.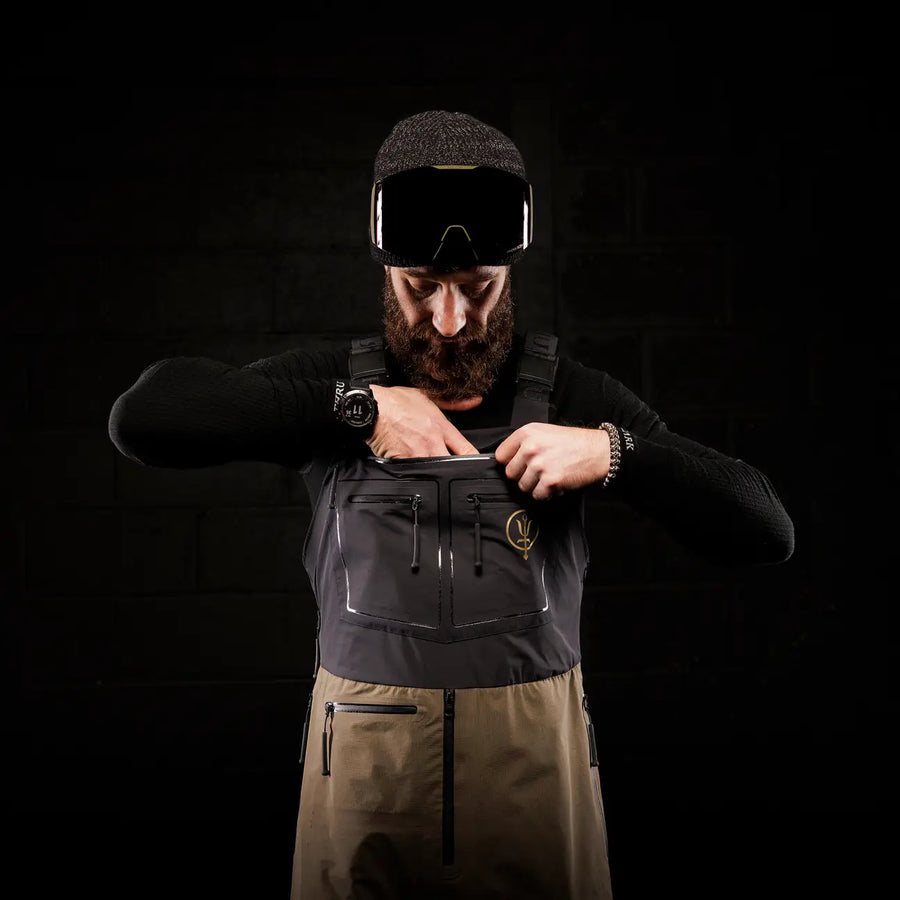 RŌNIN KATANA OR YUMI
Alpinism
These Samurai inspired sets are forged with eVent DVAlpine fabric – a tough, waterproof and windproof membrane designed to be strong enough to match alpine conditions and breathable enough to sustain periods of high activity.

Featuring a host of pockets for the full range of expedition essentials from gloves and hats to lift passes. Including inbuilt innovation with leading Recco rescue technology that will have your back if and when you need it most.

Whether you're on the slopes, off-piste or in the mountains, climb with confidence and look sharp as you do.


Need something lighter?
Check out our range from sturdy expedition shorts to moisture wicking active shorts. We've got what you need.
Shop Shorts

"Flexibility means having a fundamental ability to relate to any new environment and excel in it. Instead of fighting it, you greet it with open arms and observe it; instead of criticising it, you caress it and understand it; instead of ignoring it, you make it yours and be one with it."
- The Art of War